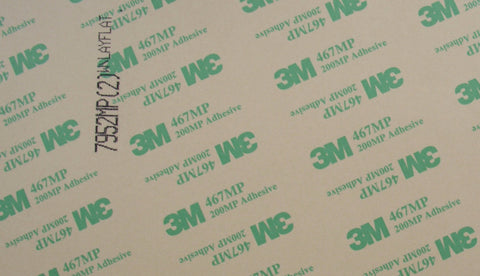 3M 7952MP Double Linered Laminating Acrylic Adhesive Transfer Tape
3M 7952MP Double Linered Laminating Acrylic Adhesive Transfer Tape 

Can be cut to the exact shape required for sticking & glueing.

Available in various sizes:


10cm x 5cm strip
30cm x 5cm strip
30cm x 20cm sheet (A4 size)
30cm x 40 cm sheet (A3 size)
30cm x 60 cm sheet
This is the double linered version of the 467MP Transfer Tape which uses the 200MP high performance acrylic adhesive.
This thin layer of adhesive is only 2 Milli-inch ( or 0.05mm or 50 microns) thick and so is ideal for delicate glueing & fixing.
This very sticky layer of clear adhesive is sandwiched between easy peel liners and so can be cut to the size and shape before applying.
Simply cut the sheet to the size and shape you require
Remove one side of the liner & apply the adhesive to your first surface/object
Remove the other liner and attach your second surface/object
Features:
· Long term environmentally stable bond.
· Smooth adhesive for high quality appearance on thin graphic overlays.
· High cohesive strength to withstand repeated stresses from switch activation.
· High temperature, humidity, and chemical resistance.
Applications:
· Attachment of graphic overlay to membrane switch or keyboard.
· Attachment of membrane switch to product housing.
· Lamination to polyester for membrane spacers.
Full 3M datasheet here:
http://multimedia.3m.com/mws/mediawebserver?66666UuZjcFSLXTtoXM6lx46EVuQEcuZgVs6EVs6E666666--
---
We Also Recommend
Really good adhesive to reattach old stickers
Bought this double sided tape to reattach stickers to an old machine. The tape is really thin, but holds really well. This was the cheapest place I could find this tape.
Shipping took a 2-3weeks to arrive (Australia). 10/10 would buy again.