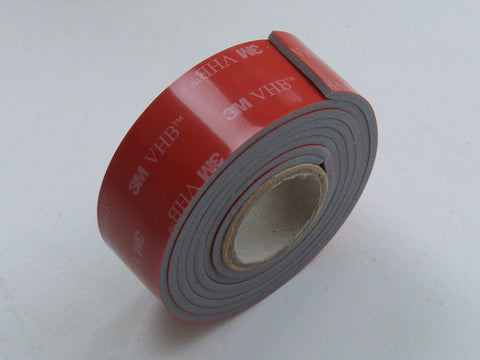 GoPro VHB adhesive mounting tape - 4991 tape - made by 3M
Go Pro adhesive tape is ideal for camera mounts used in surfing, skiing, cycling & other mobile activities.
This tape is made by 3M (product code 4991) and so is guaranteed to have long lasting hold.
The tape is 25mm wide and 2.3mm thick.
It sticks really well to many metals, both painted & unpainted, as well as higher surface energy plastics. 
See the following link for more detailed product information: 3M 4991 Datasheet
---
We Also Recommend
Super job for my motorbike helmet coms unit
I recently bought a new crash helmet and needed to swap my coms unit into it. The original sticky pads needed replacing and the GoPro VHB 4991 tape by 3M was just the job! Great adhesion and I feel my comms unit is really securely mounted. Perfect!
Sticky tape for GoPro
Quick delivery. One thing that was claimed was that it was GoPro foot compatible which it is not. Not a big issue as two pieces of tape next to eachother also works.
Never recieved
The product was never delivered
Top
Fast delivery. Good service!
Best GoPro Tape
This is the only tape I've found that is thick enough and sticky enough to securely mount my go pro camera to my helmet. A+