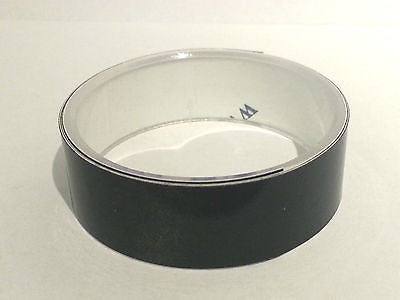 3M Scotchlite 680 Black Reflective Adhesive Film Tape Roll - Shop Sign Car Bike
A small roll of 3M Scotchlite 680-85 Black Reflective Film Sheeting. Made by 3M.

Size: 1m long x 20mm wide (100cm x 2cm)
When white light (such as from a car headlight) hits this black tape it reflects white.

Simply cut pieces from this roll to the size you require... ideal for any sign or marking that you want to be black in the daylight but reflect white light at night.




The peel-off liner on the back is easily removed to reveal a strong adhesive which will bond to a variety of materials including Aluminum, GRP, stainless steel, paint.



Ideal for shops,bicycles, motorbikes, cars, lorries, riders, drivers & pedestrians.

The black tape is invisible on black surfaces by day but highly reflective (white light) at night.

Key Features
• Excellent angularity
• Retains 90% of its retro-reflectivity when totally wet
• Positionable, pressure-activated adhesive
• Suitable for Screen printing and electrostatic imaging
• Up to 8 years exterior warranty
• Unprocessed film resists fuel vapours or occasional spills


See the following link for more detailed product information:
---
We Also Recommend
Highly reflective
This is a highly reflective tape at night. Purchased originally for my bike but now also using it on the black trim areas of my car. Minus 1 star because of the price (£8.95 for 1 metre) but then I guess all 3M products are expensive.