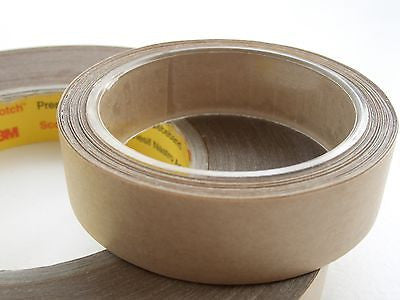 3M 9485 A-25 Transfer Tape acrylic pressure sensitive adhesive system - 5m roll
5 metres of Adhesive Transfer Tape by 3M.  Tape width: 19mm.

9485 A-25 is a firm acrylic pressure-sensitive adhesive system. Simply apply the tape to one of your surfaces, pressing down firmly. Then peel back the brown paper liner to expose the adhesive and attach the other surface.


The adhesive features very high adhesion to a variety of surfaces, excellent shear holding power, high temperature resistance and an excellent UV resistance.

Tape thickness 130 µm
Liner

thickness

100 µm
Total
thickness

230 µm

Additional Product Information
9485 has a moisture resistant liner which can withstand high humidity conditions with minimal cockling or wrinkling.

Application Techniques
1. Bond strength is dependent upon the amount of adhesive-to-surface contact developed. Firm application pressure develops better adhesive contact & thus improves bond strength.
2. To obtain optimum adhesion, the bonding surfaces must be clean dry and well unified. A typical surface cleaning solvent is isopropyl alcohol. Use proper safety precautions for handling solvents.
3. Ideal tape application temperature range is 21°C to 38°C (70°F to 100°F).  Initial tape application to
surfaces at temperatures below 10°C (50°F) is not recommended because the adhesive becomes too firm
to adhere readily. However once properly applied low temperature holding is generally satisfactory.

Applications
These tapes are well suited for joining a wide variety of similar and dissimilar materials where high temperature performance and excellent UV resistance is required.


Please note that 3M do not brand the liner of this tape but rest assured this is genuine 3M tape from an approved 3M distributor in the UK.
Please contact us for other lengths of tape.